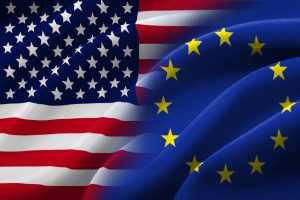 American – European Dialogue (AED) is a series of study programs between America and Europe with a spotlight on The Landscape of Religion & Religious Studies. It was developed by CECF after several International Speaker Programs that Imam Mohamad Bashar Arafat conducted through U.S. Embassies in Europe since 2005. The countries in which the AED will take place are France, Belgium, Holland, Spain, Austria and Germany. AED programs will function as a follow up activity to many of these successful speaker programs and will aid in the progression of dialogue and outreach.
The Impact of Intercultural & Inter-Religious Understanding on Immigration and Integration is a secondary area of concentration for this series. As societies around the world become increasingly religiously and culturally diverse, dialogue and cooperation to achieve common goals in a mutually respectful manner has become a global necessity.
The ongoing events in the U.S. addressing interfaith & intercultural dialogue have been very helpful to communities in America that are faced with an increasing number of immigrants. The rapidly changing face of America is no different than Europe. Many of the Muslim immigrants, who are settling in the West today, were not oriented on how to live, integrate and prosper in "multi-cultural and multi-religious" societies prior to departing their countries of origin. In some countries, the curricula of Madrasas and Shari'ah schools do not provide much information emphasizing on living in a pluralistic society.
Cultural and religious diversity is the will of God, in the past, in the present, and in the future. During Medieval times, the close interaction between the Muslims of Andalusia – Spain, Sicily and much of Europe is felt and seen until this very day in countries across the continent.
AED will also discuss issues concerning the relation between America & Europe and the issues immigrants face and how they overcome them from an interfaith perspective, as well as a humanitarian one. There is a need for mentoring on language development, entrepreneurship, skills training and other types of support. That ultimately will lead to economic stability and success. The first program will take place in Paris, Brussels & Amsterdam and will be open to academic and religious institutions in America and Europe. It will be carried out, in partnership with participating academic and other institutions.
Imam Mohamad Bashar Arafat, who has conducted numerous international speaker programs through the Office of Public Diplomacy at the U.S. Department of State since 2005, will be leading the programs throughout the course of each 9-day journey. This will include meetings, visits, workshops and a one-day conference.
Registration, Costs & Extra Details
The registration fee varies based on the length and location of the AED. Details and registration forms for upcoming programs will be posted as soon as they become available.