Overview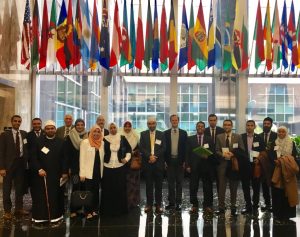 IOPs are two or three-week journeys of intensive thought and experiences designed for clergy, scholars, community leaders and educators. Participants are invited through U.S. Embassies to observe and interact with communities and institutions in the U.S. and take part in specialized trainings.
Building partnerships between people, countries and civilizations is critical in the world we live in today. Establishing these relationships begins by fostering mutual understanding and appreciation of one another's culture, history, religion and way of life. We can do this in a number of ways, but personal and professional dialogue, along with face-to face interaction, helps to more quickly break down barriers and achieve our goal. We all must become "Global Citizens" and realize that what happens in one society impacts societies internationally.
Clergy, scholars, community leaders and educators are key players in this endeavor. They have the ability to reach to the hearts, souls and minds of those with whom they engage. We must make opportunities for these leaders to venture out and begin this process themselves.
Cross-cultural learning and professional development must be emphasized to inspire people to engage in collaborative efforts that positively impact every aspect of society, ranging from their community's most basic needs, to civic and international involvement.
Participants in IOPs offered between February and April, may, in addition to their own program, be able to observe the international, intercultural, and interfaith youth leadership conference known to high school exchange students, university students and young professionals as Better Understanding for a Better World (BUBW). While the interfaith segment of the BUBW program is principally focused on the Abrahamic faiths of Judaism, Christianity and Islam, participation is open to all irrespective of their faith tradition, and is also open to participants, who may be secular or not active in any faith tradition.
Goals & Objectives
The IOP goals and objectives are to provide opportunities to gaining deeper understanding on:
Religious and Cultural Pluralism in America Today
Civil and Religious Freedoms
Interfaith Programs and Collaboration
Impacts and Contributions of Immigrants on the U.S.
Civic Engagement and the Benefits
Democracy and Political Involvement
Community Outreach and Volunteerism in America
Preventing and Countering Violent Extremism at a Community Level
Inter-Agency and Intra-Government Collaboration on P/CVE in America
IOPs are tailored to meet the needs of each delegation and may differ based their focus, goals and objectives. The outline of each IOP proposal identifies details, logistics, dates and purpose of the meetings / activities in each state to be visited.
Past Reports