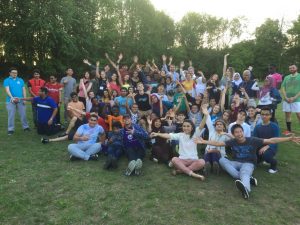 Sports & Dialogue: Building Bridges of Cultural Understanding Through Sports is designed to be an open forum for students and young adults to discuss differences, find common ground, broaden perspectives, build on their knowledge base, develop skill sets and forge friendships that last a lifetime. Sports & Dialogue aims to spur these future leaders into action now. It offers them an environment to formulate and discuss plans of action that can benefit local communities as well as the world. This is all done against the backdrop of friendly athletic competition.
We are currently living in a period in which identity, religion and culture are sources of great conflict. Our access to information has grown exponentially and has had a tremendous effect on the world. However, the downside to this increased access to information and media is that those who spread misperceptions, stereotypes and messages of hate, now have a louder voice. The youth of today are bombarded with this rhetoric and we cannot let young people, many of whom feel disenfranchised, fall victim to these false messages.
Building Bridges of Cooperation
Participants will be assigned to teams made up of people from various schools, faith traditions, cultures, nationalities and socio-economic backgrounds, who are taking part in the S&D.
In other words, participants of diverse backgrounds teaming up together to build deeper levels of comfort in cooperation and communication, as well as enjoyment.
Team Building
One of the primary goals of the S&D Program is to impress upon the participants the importance of building an effective team. Long term change happens through the efforts of a cohesive group working towards a common goal.
Sports & Dialogue Customization
Themes of these programs can be tailored to topics that hosting institutions want to focus on. CECF will be more than happy to work with interested organizations to construct a program based on their participants, needs, and ideas.
Goals & Objectives
Facilitate dialogue that encourages mutual understanding and cooperation between participants from diverse economic, social, religious, cultural and ethnic backgrounds
Expose participants to leadership and global cooperation through the beauty of diversity in a pluralistic world and respect for common values and our shared humanity
Introduce various aspects of leadership, including those central to encouraging volunteerism, creativity, professionalism among peers and social responsibility
Registration, Costs & Extra Details
The registration fee varies based on the length and location of the S&D programs. This program can be conducted in one day, one weekend, one week or over a longer period of time. Details and registration forms for upcoming programs will be posted as soon as they become available.