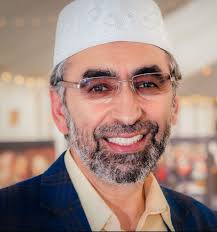 Founder & President
Imam Mohamad Bashar Arafat was born and raised in Damascus, Syria. He received a degree in Islamic Studies, Arabic Language, Islamic Law from Damascus University. Under the guidance and mentorship of the late Grand Mufti of Syria, Sheikh Ahmad Kuftaro, he studied Qur'anic interpretation, wisdom of the "Shari'ah" and the Islamic spiritual teachings for 15 years. He accompanied the Grand Mufti during most of his international programs and conferences from 1989-97.
He served as Imam in Damascus from 1981-89 and was then invited to the U.S. to lecture in various Islamic Centers. He was Imam of the Islamic Society of Baltimore from 1989-93, founded An-Nur Institute for Islamic Studies and Arabic Language in Baltimore in 1993, cofounded An-Nur Mosque in Carney and was the Imam from 1995-97. Currently he is President of the Islamic Affairs Council of Maryland.
He taught courses on Islamic Studies and Comparative Religions at several prominent universities in MD and DC. He is Associate Professor of Religion at Notre Dame of Maryland University.
He served as Campus Imam at John Hopkins University from 1993 to October 2003, Adjunct Chaplain at John Hopkins Hospital from 2000 to October 2003, and Muslim Chaplain for Baltimore City Police Department from 1998 to 2006.
Since moving to Baltimore in 1989, he has been heavily involved with interfaith work, both nationally and internationally, promoting better understanding between Muslims and people of other faith traditions.
Imam Bashar is the Founder and President of Civilizations Exchange and Cooperation Foundation (CECF). This non-profit organization functions as an umbrella to bring people together for exchanges focused on creating a better world that promotes peace, respect and cooperation.
He has provided religious and cultural training, consultation, and orientation services for the international exchange students and staff of the U.S. Department of State's sponsored Youth Exchange Study Program (YES) in the USA since 2004. He is also the convener of our three, annual youth leadership, intercultural and interfaith conferences, "Better Understanding for a Better World" (BUBW) in Orlando, San Diego, and Baltimore. BUBW International Conferences were held in the Philippines, Indonesia, Pakistan, Kyrgyzstan, and most recently in Kampala, Uganda for East Africa in 2019.
He is the Founder of Al Basheer Seminary, Interfaith Center & Institute based in Columbia. In 2011, Al Basheer & CECF began conducting training for Imams, scholars and community leaders in the U.S. and internationally called the International Observer Program (IOP), in partnership with U.S. Embassies in Egypt, Jordan, Morocco, Uganda, Tanzania, Kenya, Somalia, Belgium, Kyrgyzstan and Kazakhstan.
Since January 2005, Imam Arafat has conducted International Speaker Programs on "Islam in America" through the U.S. Department of State's Bureau of International Information Programs in more than 40 countries.