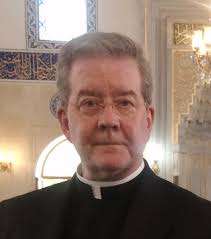 Interfaith Faculty, Al Basheer Seminary Advisory Board
Fr. William A. Au, Ph.D. is a priest of the Archdiocese of Baltimore. He was ordained in 1975 and is a graduate of St. Mary's Seminary and University in Baltimore, where he received a BA. In Philosophy and an STM. in Theology. In 1983, he received a Ph.D. in Church History from The Catholic University of America in Washington, D.C. He has published a book and several articles on the American Catholic debate on issues of war and peace.
He currently serves as pastor of The Shrine of the Sacred Heart Church in the Mt. Washington section of Baltimore. Prior to this he has served as associate pastor in two other Baltimore parishes and as Pastor of SS. Philip and James Church in Baltimore, and as Assistant Chancellor and Director of Public Relations for the Archdiocese of Baltimore. He also served on the Clergy Personnel Board and Priests Senate of the Archdiocese of Baltimore. He has been very involved in ecumenical and interfaith work.
Since 2009 he has participated in interfaith international programs sponsored by the Civilization Exchange and Cooperation Foundation in Egypt, Jordan, and Morocco. Following the program in Jordan, he authored a Christian response to The Amman Message and The Common Word statements by major Muslim leaders entitled A Common Effort, which seeks to provide a philosophical framework for ongoing Muslim-Christian efforts in Maryland and around the world. H has been a member of the Advisory Board of the Civilizations Exchange and Cooperation Foundation (CECF) since 2012 and a member of the Interfaith faculty of Al Basheer Seminary, Interfaith Center, and Institute. He has been an active supporter of both the Better Understanding for a Better World (BUBW) youth conferences since 2008 and the International Observer Program (IOP) since 2011.